Freestyle Senior Photography
---
Remember that even if your school requires a certain studio to take your yearbook photo, you have the freedom to buy your own photos from whomever you choose. Why settle for less than the best during this important time in your life? To book a high school senior portrait session today, please call 812-233-3684.
Senior Portrait Advice
We love to hear any ideas you may have as far as clothing, your own props, photos with friends, family, or pets, and/or an unusual location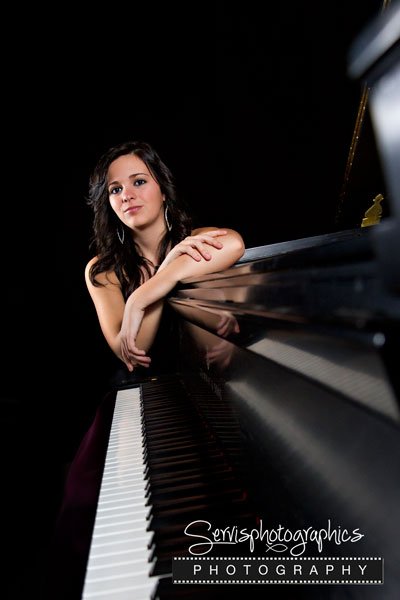 of your choosing. Our main goal is to portray you as a unique person, and hearing about your interests and likes helps us to accomplish that.
You may bring whatever outfits you want to wear. However, there are some clothes that photograph better than others. Patterns and/or words tend to be distracting. The brighter the patterns, the more distracting they will be. This isn't to say that patterns or words are ALWAYS a bad idea – if you really like the outfit please bring it in – but solids generally photograph better than bright patterns.
Orange, teal, any kind of green (except deep, forest green), and pink tend to clash with many outdoor locations, especially areas with the green of trees or grass. We suggest mid-toned solids or darker color solids like black, any kind of blue, browns, reds (or burgundy), purples, or gray. Yellow can also work (but tighter fitting yellow outfits can accent weight). Young women may wear dresses or skirts outside, but pants allow a greater range of poses and are recommended.
Keep in mind that lighter colors (especially white), tight fitting tops, and horizontal lines tend to accent weight (very loose fitting white will usually look fine). If you don't want your arms to be obvious, wear a long sleeve shirt instead of a short sleeve or a tank top. Darker colors (especially black), loose-fitting clothing, and vertical lines have a more slimming effect.
Fashions can be great, but it's a good idea to wear at least one outfit that will likely not be labeled as obviously trendy. The thing about fashion is that it goes out of fashion. You might be happy with your photos for a year, then be terribly embarrassed you actually wore such an outfit five years down the road.
If you have a class ring and want it in some of your portraits – remember to bring it!
Feel free to bring in outfits related to any activities or sports you are involved with. Most people will bring a few casual outfits, a uniform of some sort, and a dressier outfit – but again, everyone is different – you should bring in what you want to wear and what reflects you as a person.
If you are uncertain about your clothing choices, bring in more than the suggested total outfits and we can choose what will look best at the of the shoot.
Senior Photos Bring In Your Own Props
We personally avoid owning photographic props, as we feel these detract from the true personality of our clients. However, you are more than welcome to bring your own! These could include sports items like a football or pennant, musical instruments, collections, stuffed animals, your favorite flower or rose petals, books, blankets from your childhood, hats, artwork, school mascots or other activity-related items (including your own cap and gown), or any other personal object that is meaningful or relates to your own personal interests. Use your imagination!
Other Suggestions
Don't worry if you have a sudden outbreak of acne! This is the absolute easiest thing to fix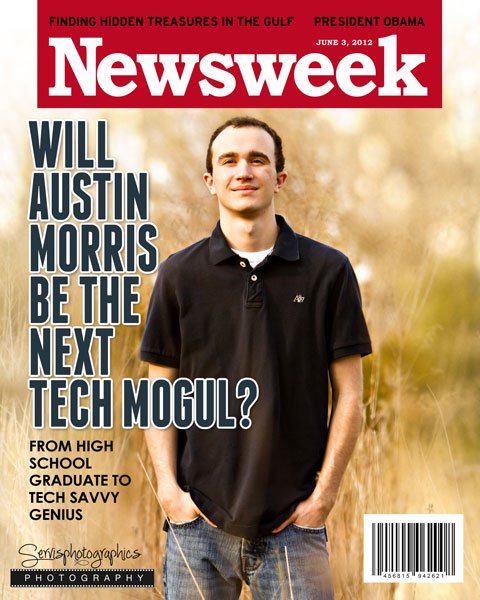 afterwards for us, and acne removal is included with every portrait package. What is harder to fix is hair styles. If you've had a very bad haircut right before the portrait session, please feel free to call us – we can re-schedule. After all, we want you to be happy with your photos and if you know you dislike your hair you are unlikely to be happy with your photos. If you are very particular about your hair, please advise the parent or friend with you at the portrait session to keep an eye out for you.
It is strongly recommended to bring in a family member or a friend (or both!). They will have the benefits of helping put you at ease, they can check your hair, help you with props and/or pets, give you clothing advice, and in general give you moral support. Plus they get to enjoy the portrait session with you!
We try to schedule location sessions to take advantage of the best times of day (and year). Outdoor light looks best earlier in the day and later. Sunrise and sunset are considered 'magic' times for many photographers and artists. The beginning and end of the day have the other advantage of being relatively cooler than the middle of the day in the summer.
One of our favorite places to shoot is Fowler Park in Terre Haute. There are many great locations with water, old pioneer buildings, an old mill etc., but you are welcome to choose another location in Terre Haute that is special to you.
If poor weather on the day of your scheduled session prevents a location session, a re-scheduling will be arranged at no extra charge. Combined studio and location sessions must take place on the same day, back-to-back. For recent examples of senior portrait sessions and different locations, please see our senior gallery.
2 hour outdoor session "currently we offer a free outdoor cap and gown shoot!" Call us for details 812-233-3684
Currently each session includes the following:
An online proof website is available for 90 days of all photos.

Two custom Senior Template created with each setting. Extras for a small fee, see our prices page for more details.

We also offer Invitations and the small cards that you send with the invitations as shown below.

Name on one side and picture on the other
Offering free phone app for senior images on any package at Servisphotographics Photography!
Also free grunge school logo on one image from your session, below are a couple of examples.
For more information on pricing and options click here