Ever since I got engaged, wedding planning is constantly on my mind. Even though our wedding isn't until October of 2017, I still can't help but spend most of my free time getting lost in ideas on Pinterest!
It's been specifically hard to narrow my focus when planning. There are SO many things to think about that I tend to get distracted and lose my focus! I started to wonder, "What would women do differently if they could do their wedding all over again? I decided to set out and talk to a few brides about that.
Here's what 30 brides have to say about what they would have done differently on their wedding day:
"I wouldn't have worried about seating charts and last minute details that weren't important. It caused more stress, and I wish I had just left things that weren't done undone and enjoyed it even more."
-Geenie, Thegiftofgabblog.com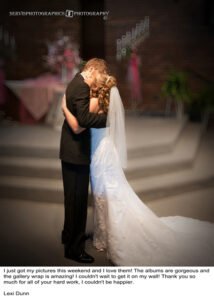 "I would have had a "first look" moment with pictures instead of having the first look be as I came down the aisle. We had lined the aisle with candles and my dress went over every single one on one side. My husband's concerned look was not the romantic/excited first look I had in mind."
-Alysa, alysalovely.com  Servisphotographics Response: This special time with just the bride and groom with no one else in the room.
"I would not have skimped on photography! We were trying to save money, since we were paying for everything ourselves. We hired some photography
students, and the pictures were not very creative, and the students were unprofessional about getting our photos to us. It took us a year after the wedding to get the discs with our pictures. It would have been worth putting out a little bit more money to have really great photos and professional conduct!"
-Katie, http://alwayskatie.com  Servisphotographics Response:  We have most wedding images ready in two to three weeks.
"I would have kept it small (we had a little over 70 guests) but I would have been stricter on who couldn't come so I could have invited others. Also I would have done my own hair!"
-Joy, http://www.fortheloveoftuna.com
"I would have taken more pictures with my family and not just my wedding party. I think I only have one shot of my parents, and it's in a big group shot with all the parents and grandparents. I think we get so focused on who is in the wedding party that we forget about family who may not be."
-Meredith, Barbeedreamhouse.com
"I would have written a list of the people I wanted to get pictures with. Everything is crazy and one big blur on your wedding day. Plus you're on cloud 9 from just being married!! I realized about a month later when we got our photos that I never got a picture alone with my mom. That kills me now!"
-Chelsea, http://www.livingthesweetwife.com
"I would have budgeted for hair and makeup to come to us so I could have enjoyed quality time with the bridal party on the morning of the wedding."
-Beckah, http://resolve-blog.com
"I would have let loose a little more. I would have stressed less about getting dinner started on time and taken more candid pictures with my husband. I also would have danced more instead of worrying about visiting with everyone."
-Brittany, http://thenestednomad.com  Servisphotographics Response: This is very important that you relax and have fun your pictures will show this.
"I would have practiced my day of hairstyle first. I had a friend do it, and she's very talented, but my hair just wasn't what I'd envisioned. I should have scheduled at least one session with her to make sure we got it right."
-Abby, Winsteadwandering.com
"The number one thing I would have done differently would be have a wedding video! I wish I could look back on the day without all the crazy madness that is your wedding day. The pictures do a great job but a video would have been better."
-Tiffany, http://www.stellarmama.com   Servisphotographics Response: Even if you do not have a video @ Servisphotographics we create fun slideshow that show your day.  See this link here 
"First off, I wouldn't stress about the small stuff. The day goes by so quickly; something is bound to go wrong anyway, and it really doesn't matter. I mean, you're supposed to be getting married because you love your fiance…not because you want to have your dream Pinterest wedding…right? Also, if I could do it over again, we would have probably eloped or just had a small ceremony…just spending extra on announcement cards. The only reason we had a traditional wedding was because we knew it meant a lot to our family."
-Samantha, http://www.hisendlesslove.com
"I had a really laid back wedding in general – but I definitely wish I would have spend more intentional time with my bridesmaids and family. We were so busy setting up and decorating all day that I feel like I really missed that part."
-Heather, http://www.thedeanslistblog.com
"I would have gotten more pictures with my husband and family, and that would have required adding an hour to our wedding package. Ultimately, I think that money would have been well spent. My family is rarely together and I barely have any photos of us all."
-Tori, http://chasethewritedream.com
"Oh gosh, so many things! Honestly, though the biggest thing for me is that I would have had a smaller wedding. I was so worried about inviting everyone we knew…. and now many of those people we don't really talk to anymore. If I had it to do over, I'd definitely keep it smaller on every level – it would have been less expensive, too!"
-Jess, http://beingmrsbeer.com
"Live in the moment of your day. Many brides worry about having that absolutely perfect day (and who would not want that) and miss out on the little moments that are so heart warming and memorable. Things may not go as planned but enjoying every minute of your big day makes for awesome memories. Something extra examples of things that went wrong but left an amazing memory/ experience: The car which carried myself and the mini bride maid of honor (cousin and sister) broke down at the most unusual corner. We had so much fun taking pics and singing in the car while waiting for help that we still talk about that today."
-KayNicole, http://www.kaynicole.com/
"As for me, one thing I wish I would've done was pull together my bridesmaids regularly, whether it be for coffee, lunch, asking for their input and opinion, or working on wedding projects – I wish they would've been more involved, and it was really my fault for not involving them. Granted, in my situation more than half of my maids lived out of state; but I wish I would've made more of an effort to connect with them, involve them, and have them connect with each other when they were in the same place at the same time or via social media. Taking the time to strengthen your relationship and connection with your girls is something you will never regret during the wedding process."
-Rachel, Green Bay, WI
"My biggest regret was not having a themed wedding. I wanted a stress-free environment and gave into my emotions very quickly. I should have taken more time to think about what I really wanted and made the wedding reflect our personalities. I definitely would have taken more time to think about ALL of the details."
-Laura, Pound, WI
"I would have done a receiving line! We were suggested to get away just us for a few minutes after but it was so rushed and there were several guests that we never got to say hi to because they had to leave before the reception. I hate that we missed out on that."
-Brandy, http://Www.asweetaromablog.com
"I would have loved to get a photo with every guest – in the photo booth or posed with the photographer. There were so many people I didn't get to speak to. It would have been nice to hug every person, even if it was just for a moment."
-Elise, http://www.polkadottedbluejay.com/
"I would have created a photo back drop for my guests and done some searching on Pinterest for ideas. I also would have made sure to take an individual photograph with everyone in my wedding party, they were so important to the big day and I wish I had those moments captured."
-Samantha, http://www.diyjustcuz.com
"I think the first tip that always comes to mind when someone asks is: Hire a day of coordinator if you don't have a wedding planner!!! Like many brides, I did a lot of DIY, but since we had an outdoor wedding that meant we couldn't set anything up beforehand in case it rained the night before. So I was rushing around trying to get stuff set up the day of, and even though I got a little help, it was hard for me to let go and let people help because I had my own vision and hadn't properly shared all those details beforehand. In the end, some things did not turn out like I'd wanted, which in hindsight is okay but at the time was disappointing, and could have been avoided. So in short, shell out a little money for a coordinator!"
-Linda, http://themurphmans.com
"A wedding video would be nice – but my other thing I would have changed was that by the end of the day the lining on my dress was was cutting in and bruising me. I do sort of wonder whether I should have tried some other dresses rather than going with my first choice without looking at others."
-Hannah, http://hannahsays.co.uk/
"I didn't have a wedding planner; I did it on my own. I would have made a point to run through the reception during the wedding rehearsal. The rehearsal for the ceremony went perfectly, and everything for the reception was properly arranged with stations totally manned, but it wasn't until the guests entered the reception area that I realized the MC had no idea how everything was to be organized. We had never walked through it and I had forgotten to give him my notes! My husband had to pull me back from trying to be the MC myself! Rehearsing the reception is just as important as rehearsing the ceremony."
-S'ambrosia, http://www.kansastokenyawithlove.com
"I would have hired a wedding planner, too many details and coordinating from out of town. Enjoy more time with friends and family. And yes, make a list of the people you would like pictures with!"
-Carmilla, htt
p://www.carmillafashih.com/
"I would have done a first look! My husband really wanted the first time he saw me to be when I walked down the aisle, but after our ceremony my makeup was a teary mess! I either laughed hysterically or cried uncontrollably through our whole ceremony. After the ceremony everything is a whirlwind. It would have also been nice to have a few quiet moments with him during our first look."
-Jessica, Loveeveryadventure.com  Servisphotographics Response: Also first looks can be done with fathers of the bride that is always emotional.


"I would have taken more fun pictures with my wedding party. I also would have taken separate pictures with each of my bridesmaids. Also, a photo booth and maybe karaoke would have also added to the day."
-Tessa, Youmeandchewymakesthree.blogspot.com
"I wish I kept my hair down! I grew it out because I wanted long pretty curls and then it somehow got into my head that I needed to wear it up. I hated it and it's my biggest regret about our wedding pictures!"
-Chelsie, http://lifewithrosie.com
"One thing I regret was that I bought a dress for $200 and then had alterations done totaling close to $750 — too much for a dress I didn't love! I was just trying to save money! If I were to do it over, I would've spent a little more money to avoid
alterations on a dress I didn't love in the first place. One thing
that I DID do that I don't regret one bit was have my mom and mother-in-law plan the whole thing. I gave them a theme and colors and they went at it! It left me stress-free because the only thing that mattered to me was my husband and I were making promises to each other and to God that day. Everything else was for family anyway!"
-Vicki, http://vickiandjosh.blogspot.com/
"I would have put more thought into the future when we were deciding our wedding budget. When we were wedding planning, we didn't consider when we might like to buy a house, upgrade cars, etc when we were married. Now that we're married and want to buy a house, we regret spending as much as we did on the wedding. Had we spent half as much on the wedding, we could already be homeowners!"
-Erin, veryerin.com
"Don't ever make an important decision when you are tired, frustrated, and stressed. Wait until you are in a better place emotionally and if you still want to make those changes, then go for it!"
-Tina, Pound, WI
Reference this page below.
http://inspirationindulgence.com/2015/09/30/what-30-brides-would-have-done-differently-on-their-wedding-day/
One thing I would add is Brides forget that 90% of the day is spent with the photographer and for some reason take this lightly and hire the wedding photographer last.  Please seek out your photographer just after the ring or at least just after the dress.  They know what works in photos and are great resources for locations and can help you choose the best locations based on you and your personalty and dreams.